Products
This page lists some of the products that we produce or endorse. Scanning down the page you will find Books, DVDs, and package offers.


NEW - you can now purchase a Gift Voucher - especially useful if you are buying for a loved one and you don't know quite which materials they already have:
£10 denomination, simply buy as many as you would like to give:
Click here at any time to see what's totting up:
"Your books are really excellent - well researched,clearly explained and professionally presented...My congratulations on them"
Terry O'Neill (7th Dan sensei), Merseyside, UK
Fortress Storming
This is the book that I was forced to write. One of my students could not believe the junk she was reading in a certain other kata book and asked why there wasn't something on the market that held more sense. I tried to explain that everyone is entitled to their opinions, but she was a rational human being, and could not understand why anyone would want to believe that the first move from Bassai Dai was leaping forward to block an oi-zuki that couldn't possibly touch you unless you leap forward into it!!!
For a long while we only did this book for my members as a spiral bound thing.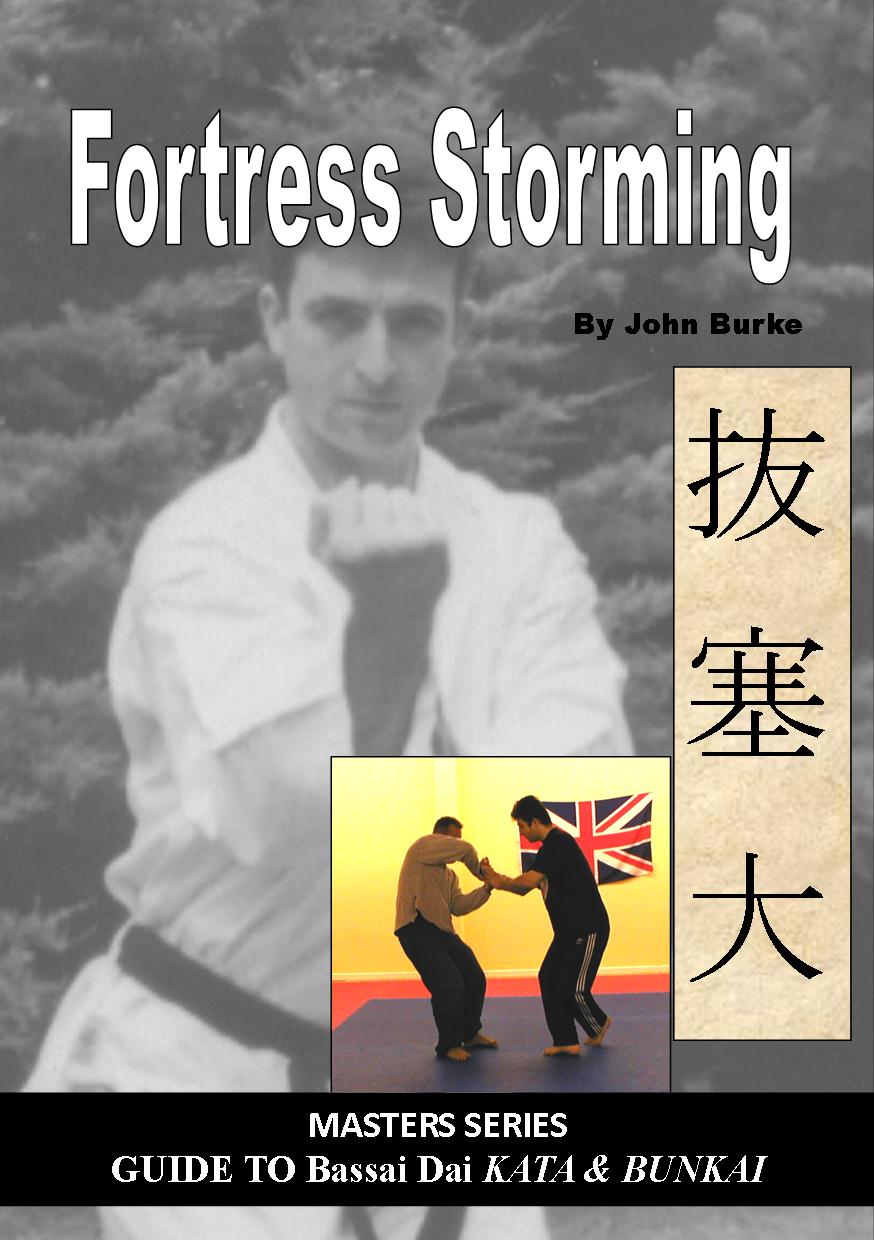 As we got more and more bookings for seminars we ended up having to have it printed and bound just to save time.
It's about Bassai Dai kata, featuring at least one application for every move, a bit of history, and a bit about pressure points. There's a foreword by Russell Stutely, Europe's premier pressure point expert.
This book is companion to Kata & Application volume 8 DVD, orderable below.
If you want practical uses for each move in the kata, then order the book here. It is mailed out worldwide without additional postage charges if you use our "Add to Cart" button. Hit the Lulu button if you'd like a download version.
£14.95
Peaceful Mind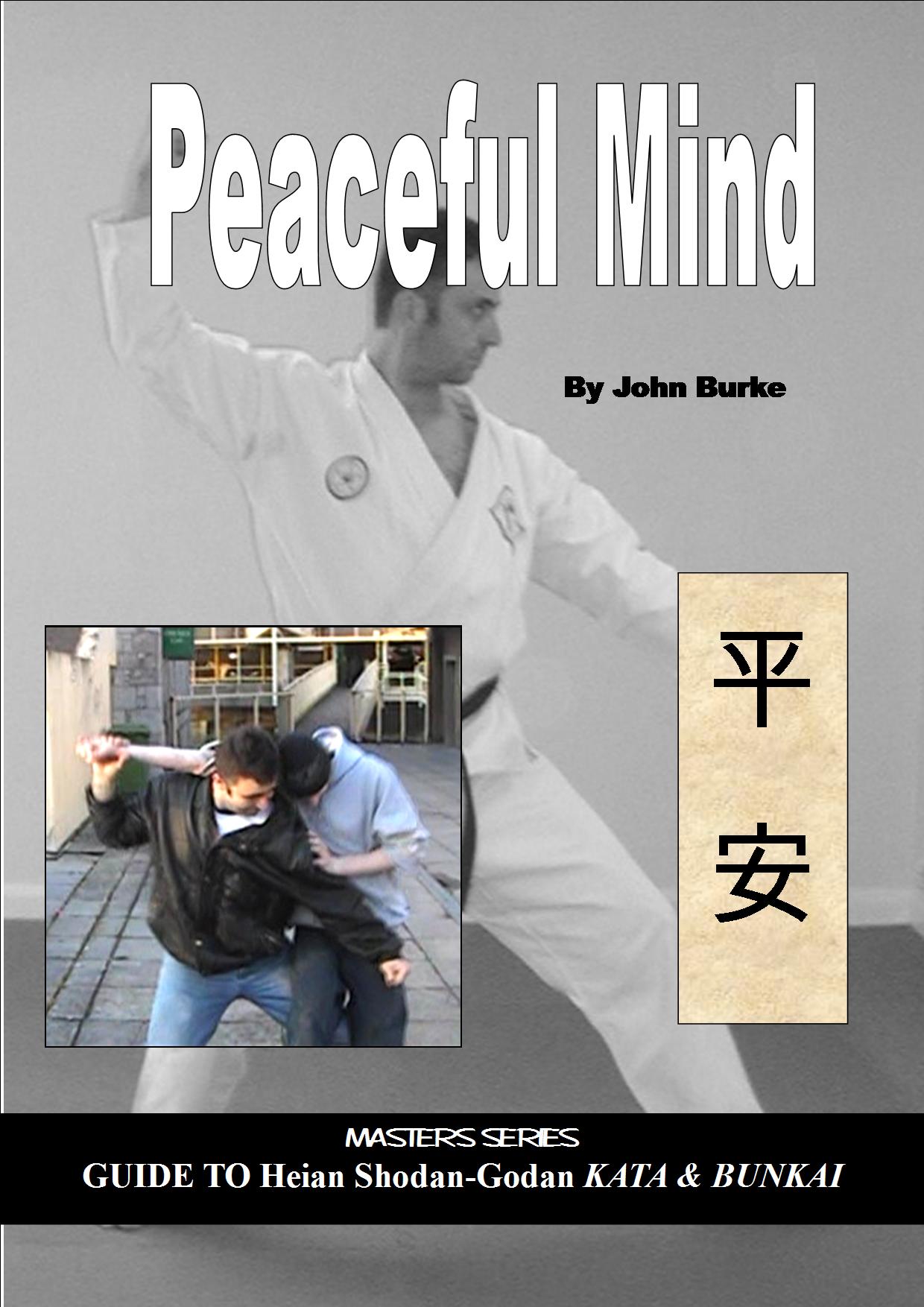 This was the next book, looking at the Heian kata that are usually taught to low grade students. There are many more people out there below black than there are at black belt and beyond, so it was wise to produce this for them. It also exists in order to brief higher grade (black belt) students in furthering their education and pushing their boundaries.
Forewords here are by Anthony Blades, Russell Stutely, and Patrick McCarthy
See why x-block isn't for stopping a descending hammer-fist. See what the jump in Heian Godan is really used for. Find out why neither arm in the first move of Heian Nidan and Heian Yondan is "preparatory" for anything, and what those arms are really doing up there. Why stepping to the left is a good idea, even if the opponent is "in your face".
This book features many moves which can be seen on Kata & Application volumes 2-6, which you can order below.
£14.95
Buy the ebook here:
---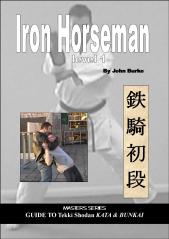 Iron Horseman level 1
This one looks at the Tekki Shodan kata and provides useful applications to all of those weird-looking postures. This kata is much misunderstood. It's shortness of performance and the inability to use most of it's techniques in competition Karate mean that it is usually overlooked. In truth it's a work of genius, teaching the practitioner about close-in fighting. Arm-bars, chokes, and close strikes galore!
Order the book to find out why side-ways stepping is mechanically sensible. Why crossing your arms in front of you might just knock the attacker out. Why those ridiculous stories of fighting on horseback, down a narrow alley, or on the narrow paths between ricefields are just nonsense - and what the moves are really for.
Companion to Kata & Application vol 7 DVD - which you can Add to Cart below.
£14.95
Buy the ebook here:
Fortress Storming - the minor version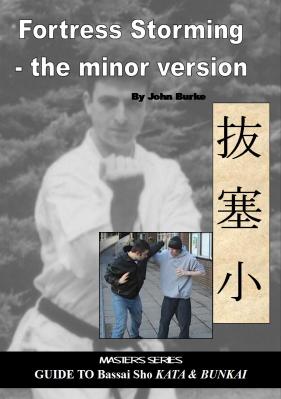 This book is brand new, published at the very end of November 2008. It features applications to the moves in Bassai Sho, Bassai Dai's 2nd degree black belt brother. So few people reach Black Belt, and even fewer get beyond it to really investigate the higher kata. This book acts as complement and comparison to the Fortress Storming book.
As well as featuring practical applications to each and every move - and none of them are defending against a bo staff - the book also contains theory on the relationship between Dai and Sho versions of kata. The companion to Kata & Application volume 14 DVD (which you can Add to Cart below)
£14.95
The ebook is available here:
The Pressure Point Guide for Martial Artists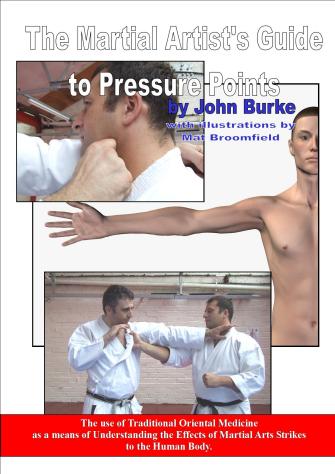 Diagrams and photos of the points and how to use them. An introductory guide to pressure points, debunking some of the myths. This is the book that people keep asking me for. I think you should find out in class and at seminars, but people just keep asking, so here it is.
This book features some of the most popular pressure point defences that we use most frequently. Far from being just another anatomical atlas, my aim was to demonstrate the kind of blows that we commonly see in the martial arts, and how they are practically landed on these tiny targets for best effect. Explanation is also given for Five Element theory, Yin-Yang Theory, and Quadrant theory - all in plain english and designed to make sense to the martial artist (not the acupuncturist).

Very kindly, Russell Stutely renshi has raved about this book, claiming it's one of the very few things that he keeps on his desk rather than on the shelf.
There is also a 2-disc DVD set available below featuring the points shown in the book.
£19.95
Download the ebook here:

DVDs

the
Pressure Point Guide for Martial Artists DVD
You asked for it, we made it. The Guide in DVD form. Now you actually get to watch people getting bashed on PPs, as shown in the book. This is a 2-disc set. Theory and practice are shown in motion. We've had some people buy the disc just to see Damien Birch sensei getting knocked around...
£37.90
And here is a special link to purchase The Pressure Point Guide for Martial Artists as a video download at the reduced price of $29.95 :
Kata & Application DVD Series
These DVDs are shot on location at the Karate Academy in Devon. They feature tuition by John Burke sensei and a variety of students and guests. Each DVD takes a look at the moves in a kata, and translates them into useable self defence situations. These "no-frills" DVDs just feature the bunkai; showing locks, takedowns, chokes and strangles rather than long range moves. Choose from the kata that you are studying, but don't foget the "more basic" kata, as these often set the scene for what comes later, and without one, you might not understand the other...
Let's be clear, the outward form might be the same Shotokan form that is demonstrated in many schools heralding from JKA roots. The applications are not from stepping oi-zuki or combinations that only occur with other trained karate-ka. The applications are shown at learning speed so that users can see what is happening, and often with an expanded view because keeping it as close as is really necessary might make the moves un-observable.
These DVDs show why we have kata instead of just free sparring. Frankly - the moves can't be done on a live opponent with full speed and power without hurting them...

Each is £19.95

NEW - you can Download the video here at the bargain $19.95: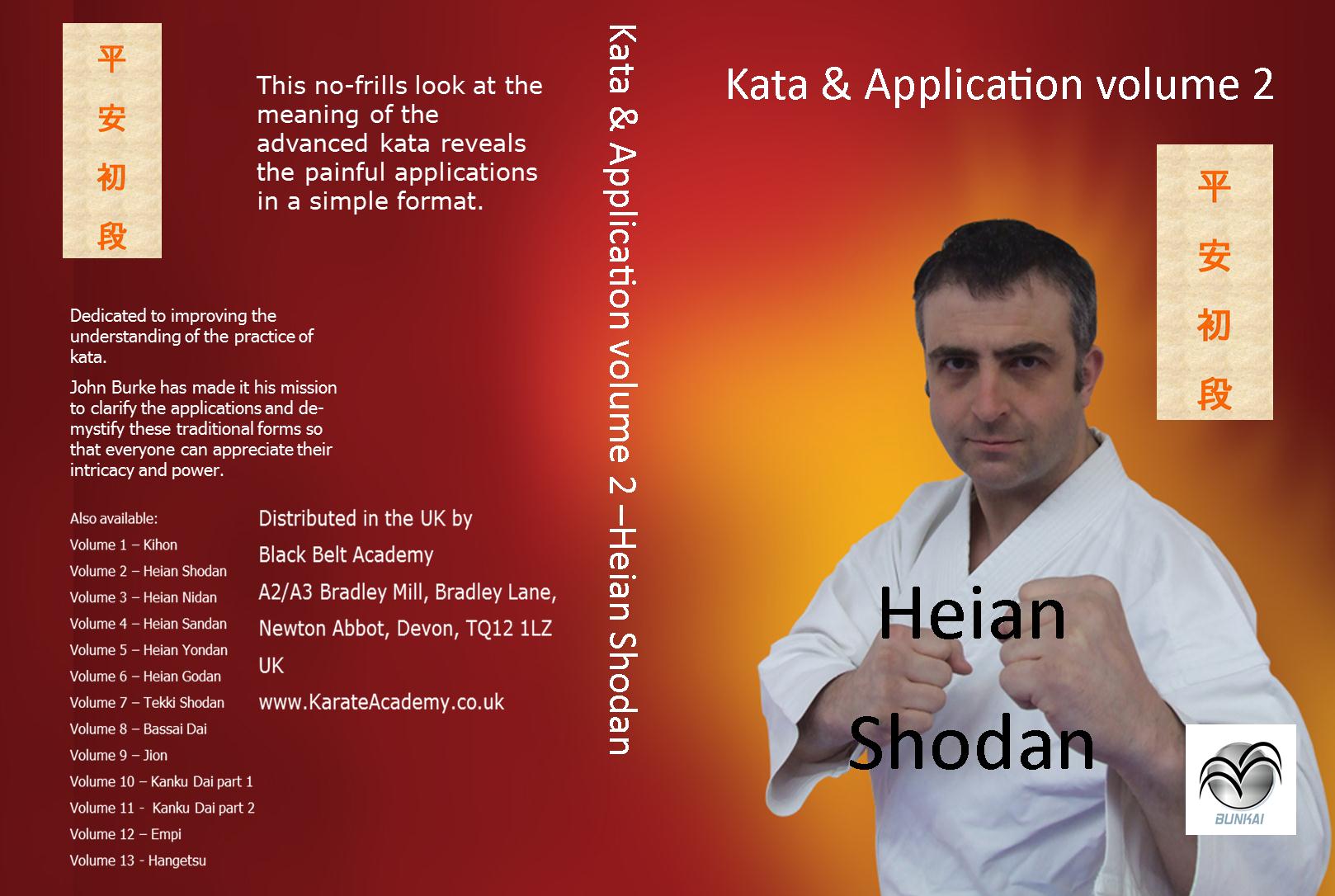 Volume 2 -
Heian Shodan
.
Pinan Nidan
. No marching forward against an attacker who's walking backwards. Plain illustration of why you'd want to kiai on a "block". 45 degree angles explained. Make this form a viable part of your art.
Also available as a download for $24.95 here:
Volume 3 -
Heian Nidan
. Also known as
Pinan Shodan
. No chair blocks. No kicks above the waist. See why the kata is presented as it is, and how it really works.
Just £19.95
Also available as a download at $24.95 here: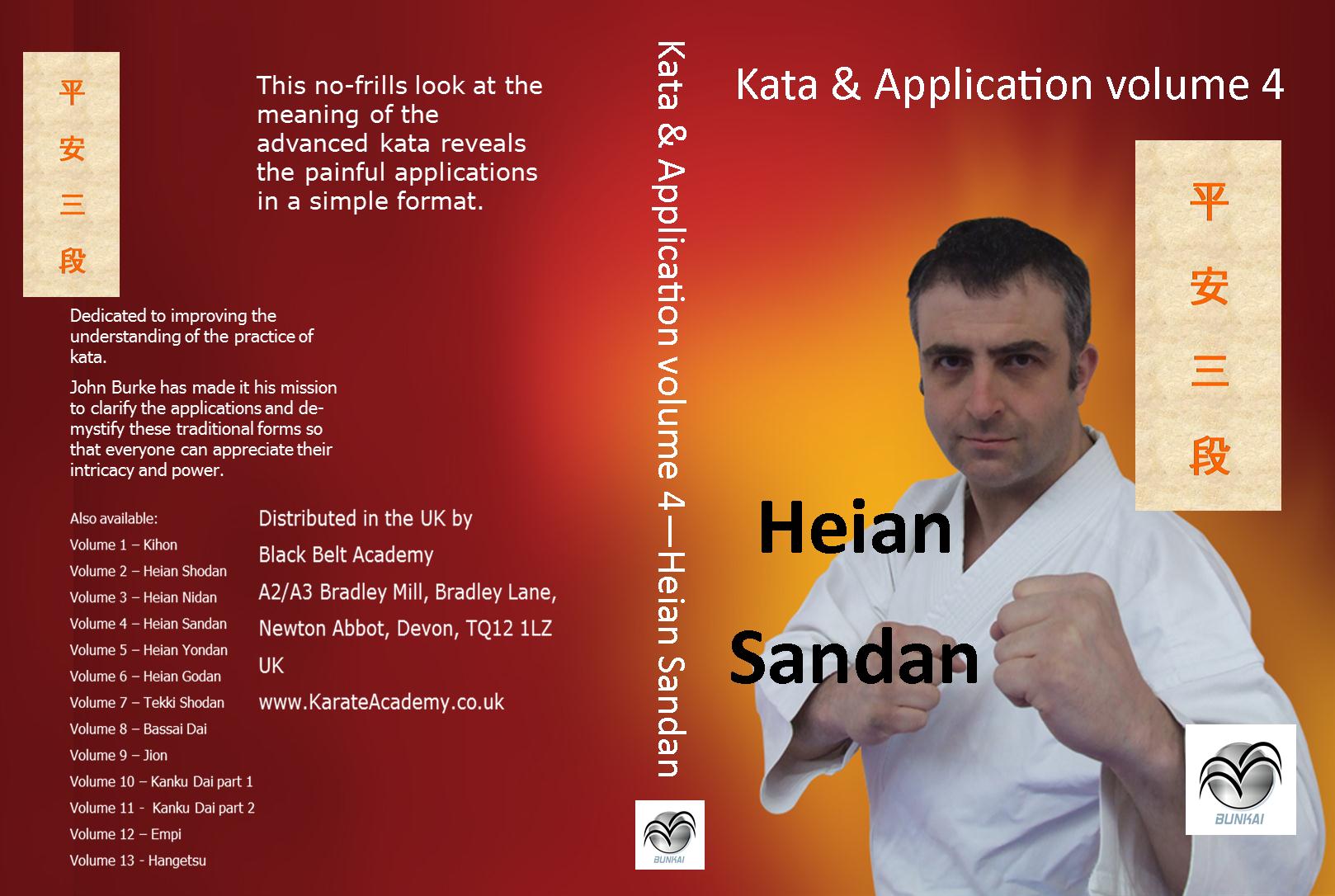 Volume 4 -
Heian Sandan
.
Pinan Sandan
. Not kicking knives out of people's hands or sticking your fingers thro
ugh their sternum, just some low base and throws that work. Just £19.95
Also available as a download here at $24.95: Download here at $24.95
Volume 6 -
Heian Godan
. The culmination of the Heian family. Time to find out what that "jump" is really for, and why manji gamae is NOT a simultaneous high block and low block. Also known as Pinan Godan, the video reveals what the jump can really be used for (not jumping over a bo staff, surely...?), and how the moves become joint-locks, throws, and strikes to anatomically vulnerable locations in the hands of those who care to see them.
This video is also available to download at $24.95 here:
Volume 8 -
Bassai Dai
. The one that started it all off for me. Attending the seminar on this one would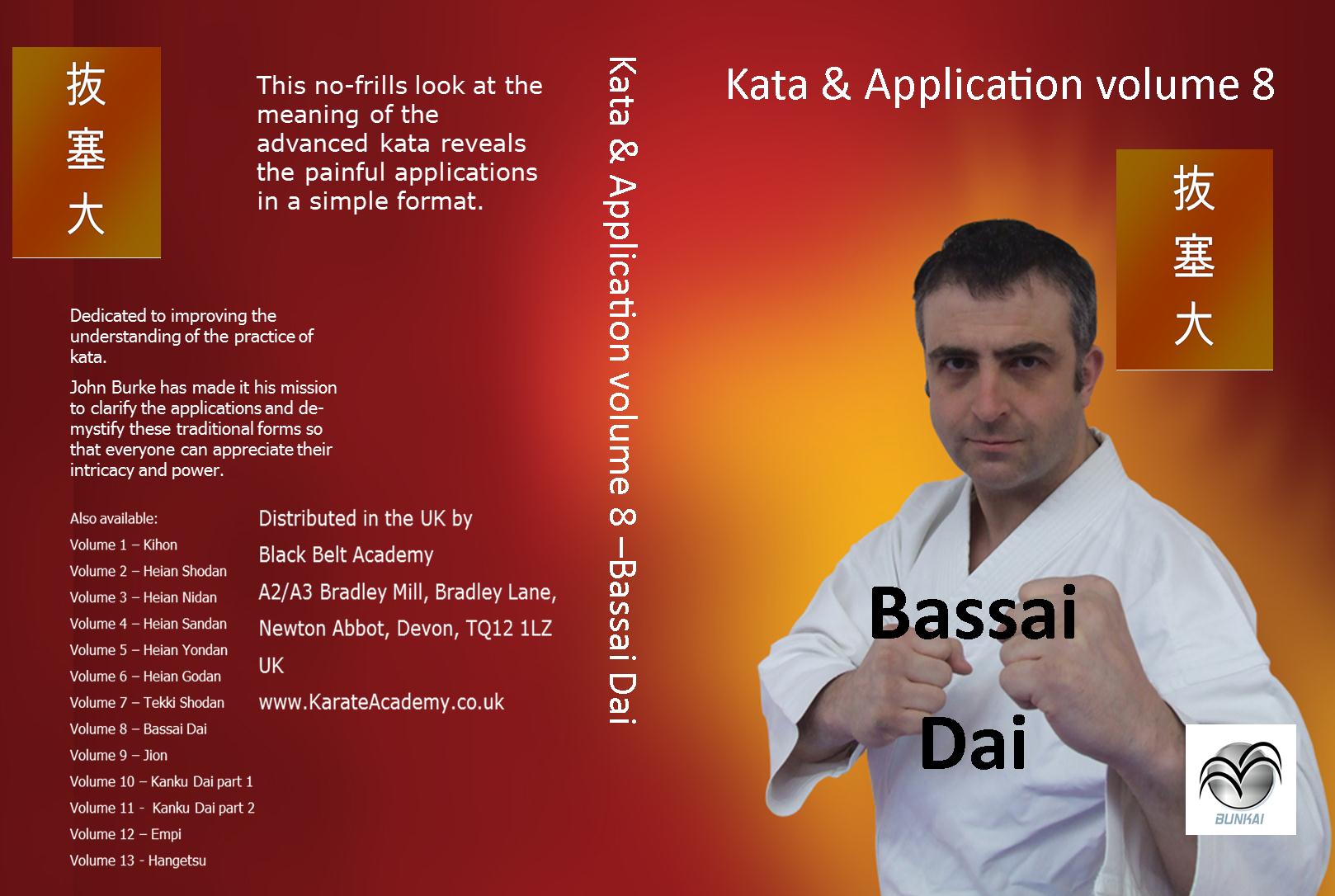 cost you more and you can't rewind to get the details. See how the kata that many clubs use as their "black belt" standard is really used for locking joints, knocking attackers out and how to really use that "mountain punch". Far from "fighting in the dark", that last sequence is shown to be absolutely devastating.
Companion to the book Fortress Storming, featured above.
This video is also available to download at $24.95 here: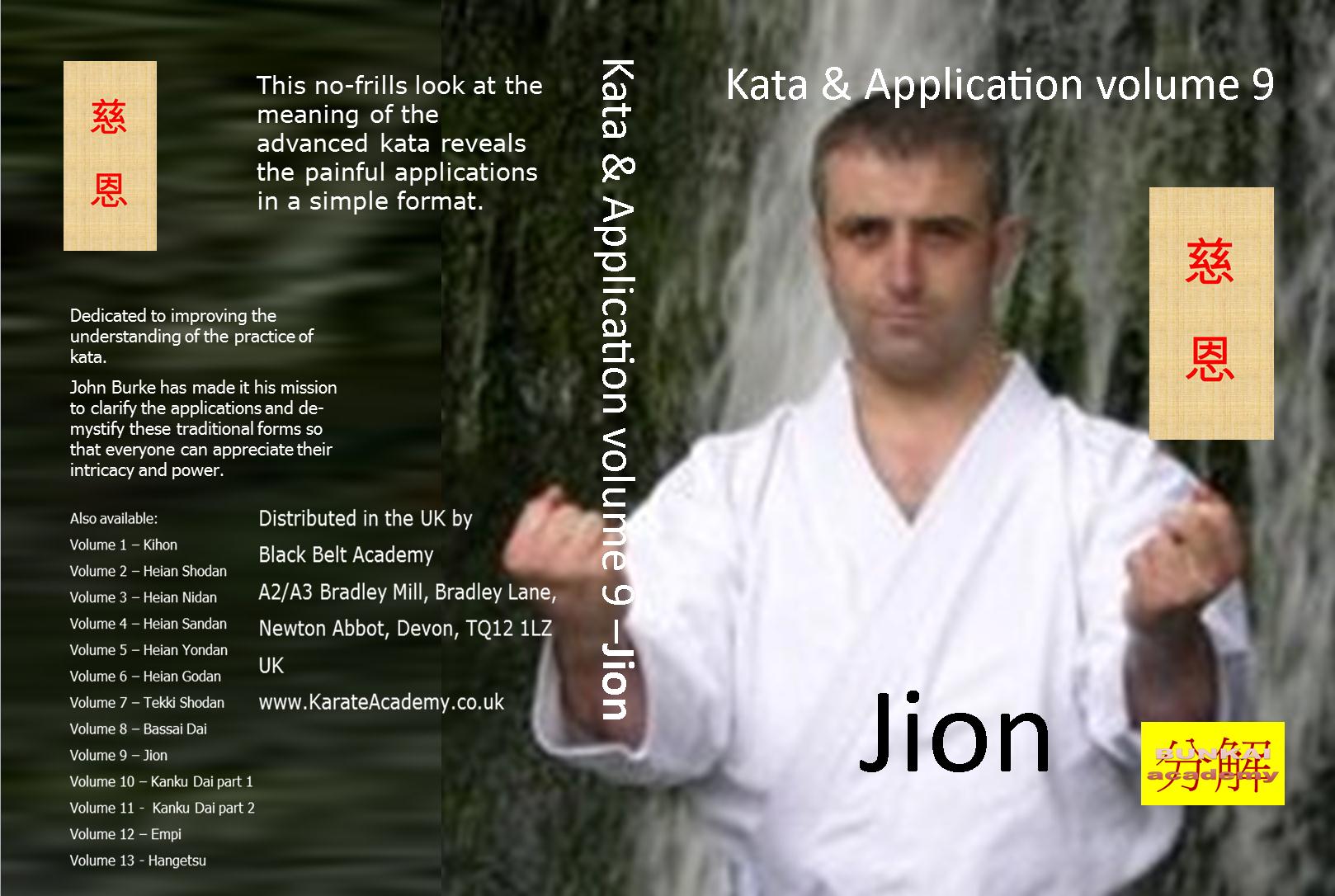 Volume 9 -
Jion
. Temple. No "preparatory" positions. No "resting postures". Only taking each technique and showing how it can be used in realistic situations. Providing the basis for many of th moves in the Heian family of kata, we find them here in the "right order", and the analysis reveals the fundamental rule of application.
This video is available to download at $24.95 here:
Volume 10 -
Kanku Dai part 1
.
Kusanku. Kosokun
. To View the Sky, major version. So big we couldn't get it all on one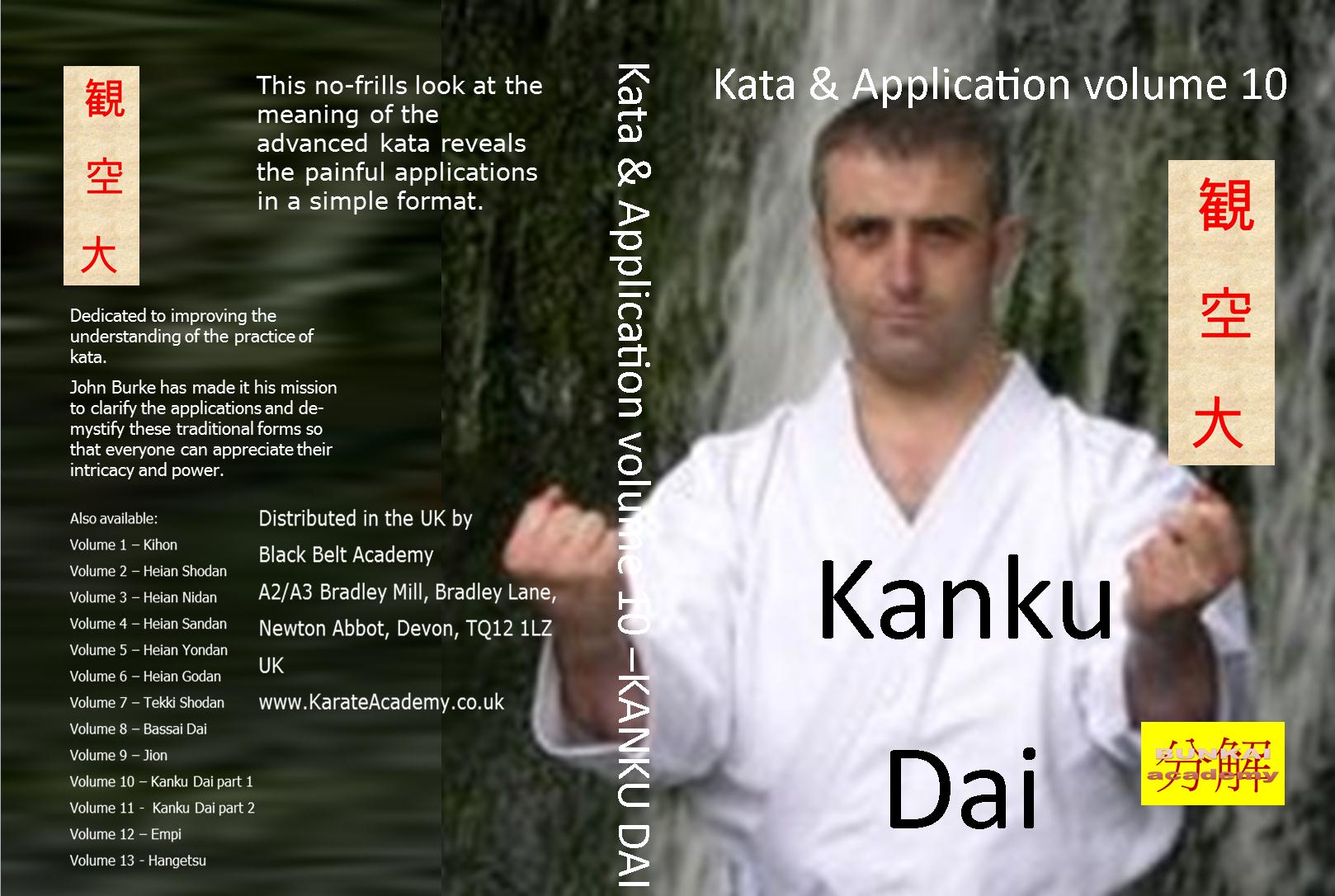 disc. Note: this disc has a slight deficiency in that the first half is shot at a fair distance. The information was so good that we didn't want to reshoot (it hurt enough the first time) or digitally zoom which would have lost some of the clarity. It's there, but it takes up less of the screen than we're totally happy with... It's fixed from half-way through.
This video is also available to download at $24.95 here:
Volume 11 -
Kanku Dai part 2
. The rest of the kata. The jump, falling to the floor, and why double kicks present no feints or dummies.
The second part of the Kanku Dai bunkai video is available as a download at $24.95 here:
Kanku Dai 2 disc set. This is volume 10 & volume 11 presented together and supplied at a discount. £31.92 instead of £39.90.
Volume 12 - Empi. Wanshu. Flying Swallow applications. Dropping a big stone on the idea that you step out to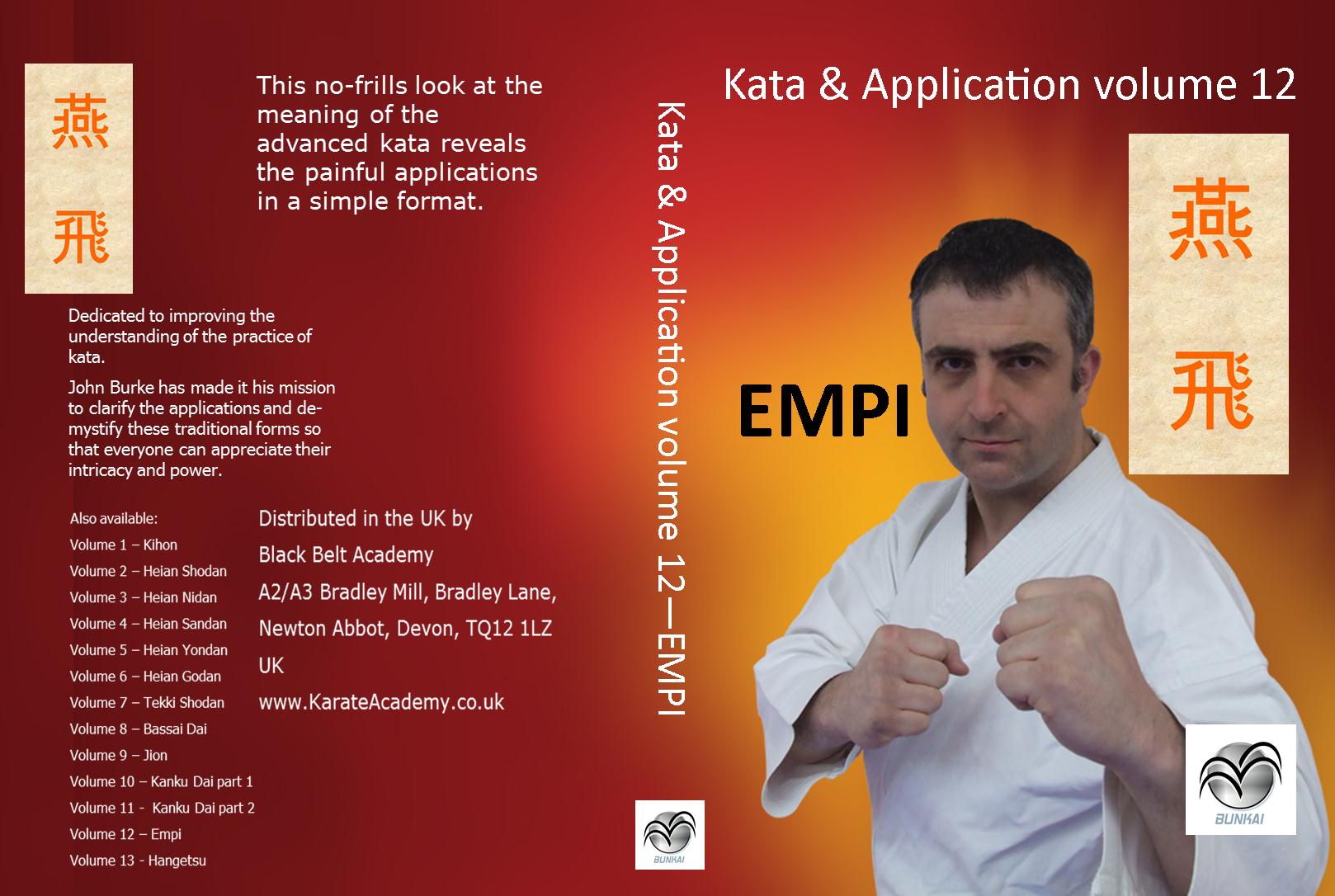 the side and kneel down to block a kick! Throws, traps, and more about the science of applying a kata. Find out how this kata teaches practical self defence that doesn't rely on strength.
This video is also available as a download for $24.95 here:
Volume 13 -
Hangetsu
.
Seisan
. Crescent Moon gets applied! Illustrating how the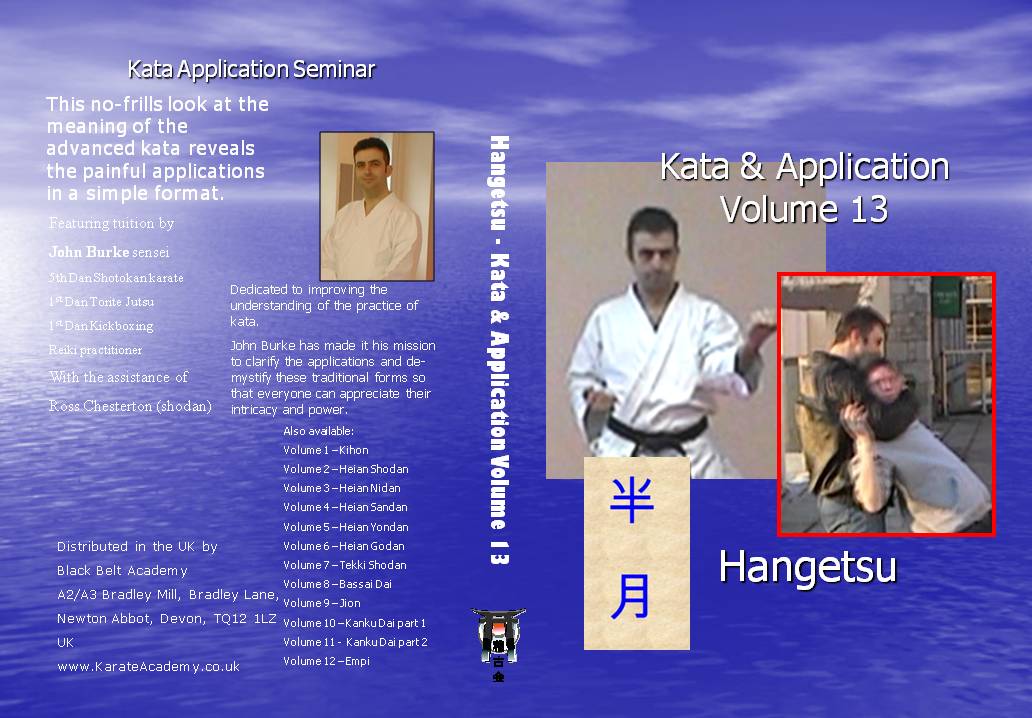 techniques are used at the omote level, selected ura and hiden applications. Arm bars, neck cranks, why you would want to stand making a "mountain block", throws and dangerous feet.
This kata is the one that turned John Burke sensei's world around when he was investigating bunkai. Being told by a 7th dan that the last move was for blocking a kick sent him on his search and the books, DVDs, and seminars are the result. See on this DVD why that last application was just too ridiculous and see the answer that was discovered by trawling through the worlds "masters" until a good one was found.
The Hangetsu bunkai video is also available to download at $24.95 here:
Volume 14 -
Bassai Sho
. Now available. Includes the real use for those techniques that look like you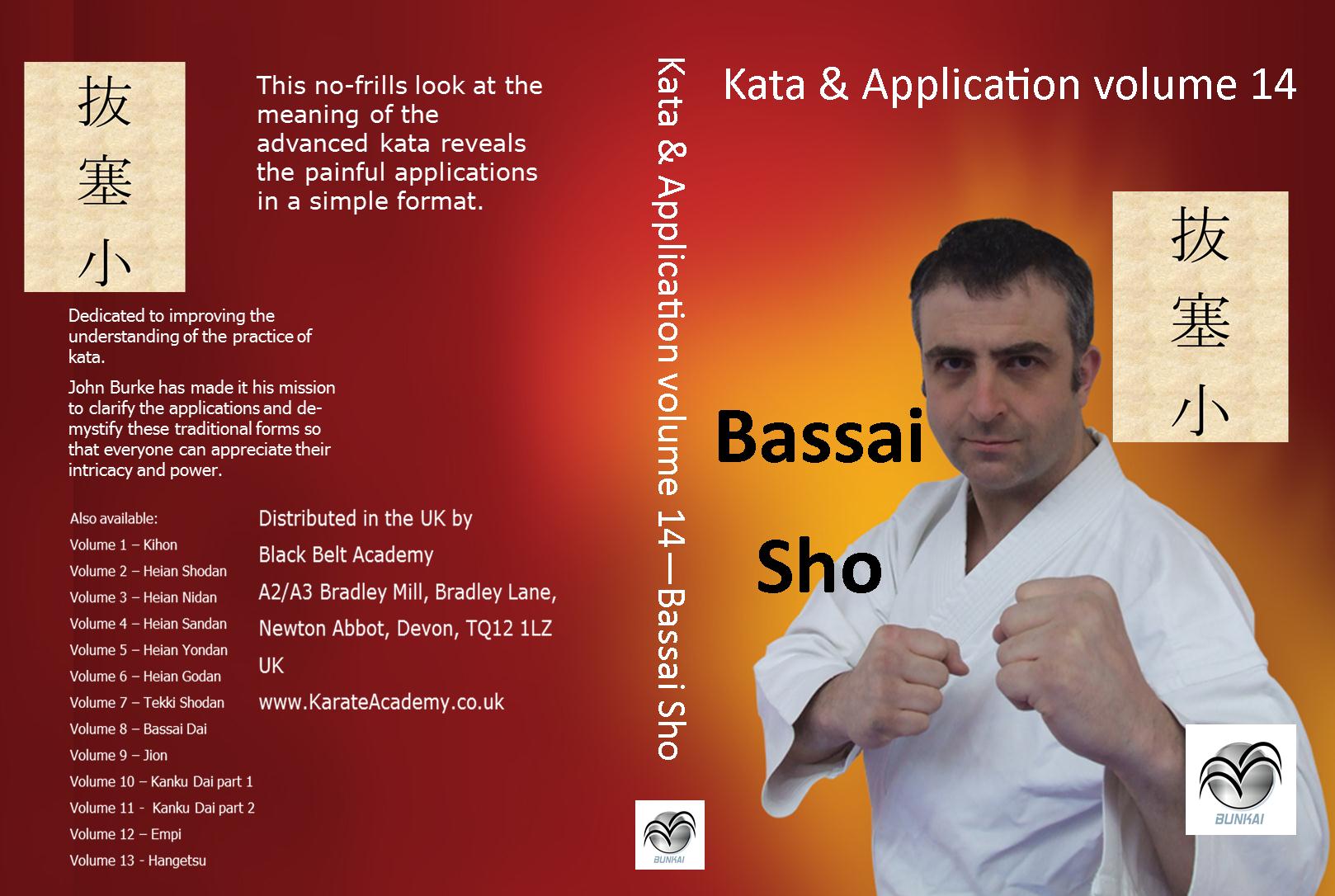 are holding a bo staff and comparison to Bassai Dai for applicative purposes. Companion to the book
Fortress Storming - the minor version
, featured above.
The Bassai Sho applications video is also available to download at $24.95 here:
Volume 15 -
Kanku Sho
- Alfredo Marano sensei came over from Italy to experience the locks, throws and pain compliance techniques contained within this kata.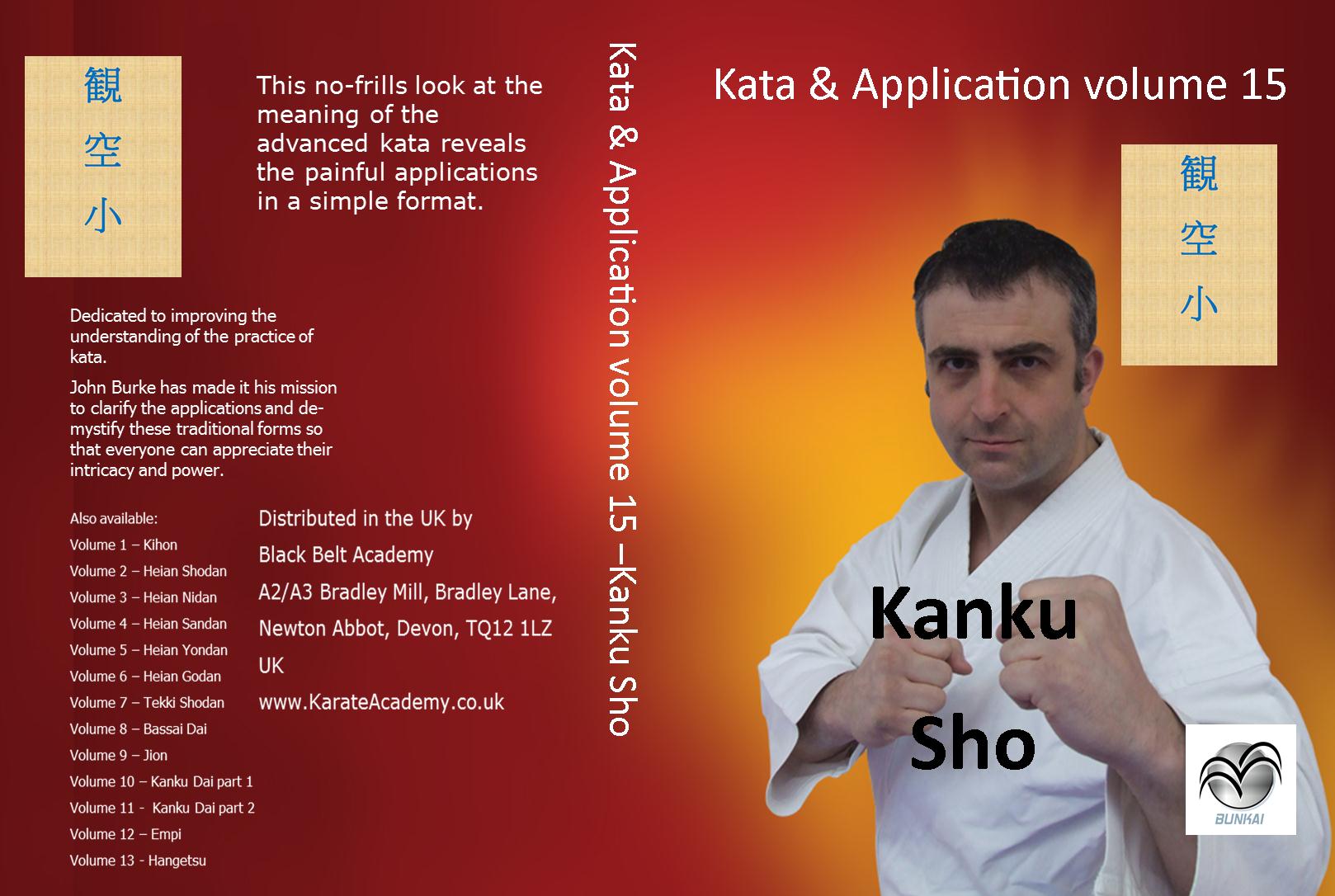 Jumps, unbalancing pulls, and strange twin low level blocks all now have an added dimension for practitioners who have access to this information.
The Kanku Sho bunkai video can also be downloaded at $24.95 here: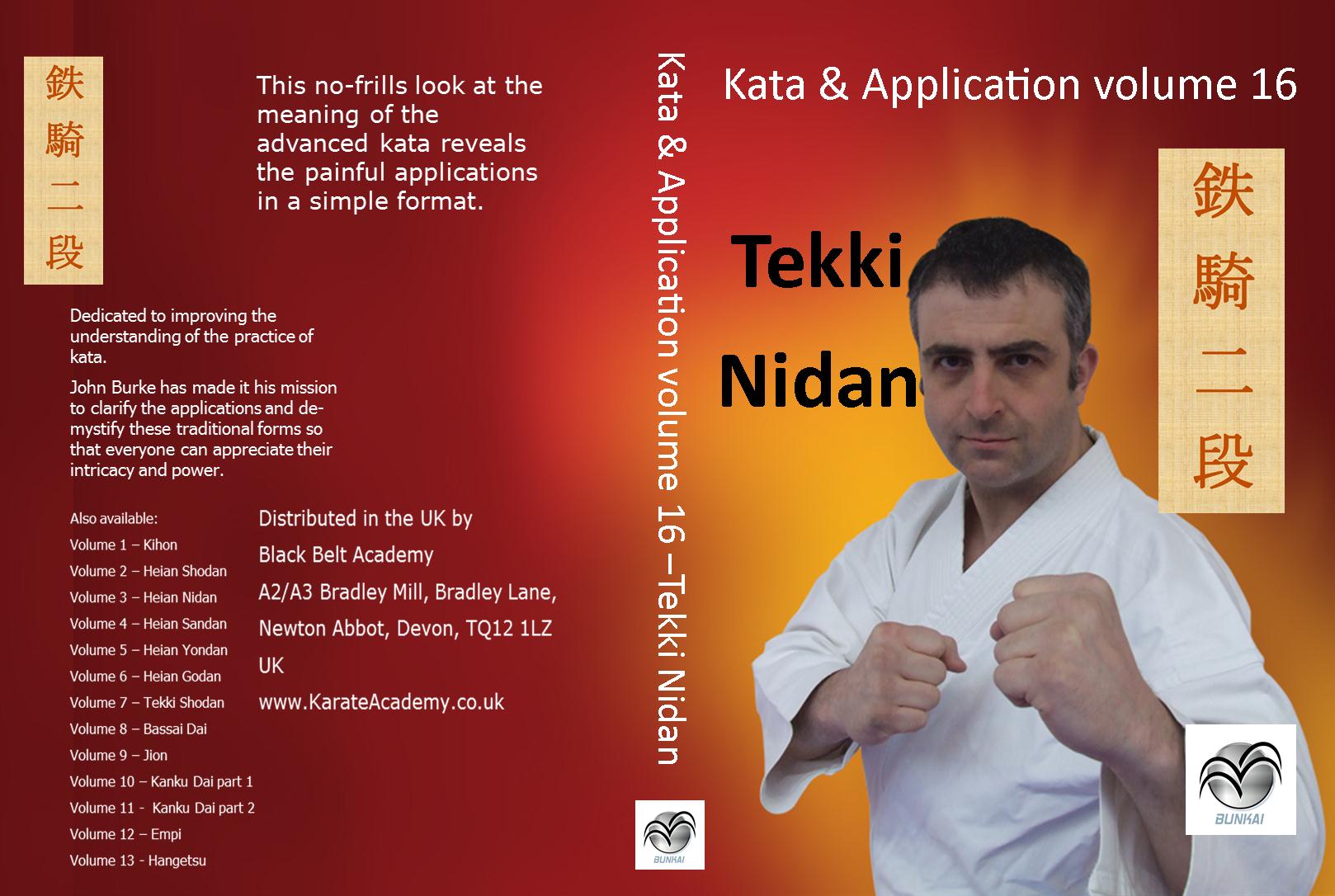 Volume 16 - Tekki Nidan - The middle chapter in the Naihanchi story as told through the Shotokan system. The close-in grappling kata that teaches how a Karate-man does a bear-hug and why keeping an enemy at the side of you is so wise. How can such a sort kata contain so much information? This hour-long DVD shows how:
The Tekki Nidan bunkai video is also available as a download at $24.95 here:
Volume 17 -
Jitte
. Revealing the meaning of those "mountain blocks" and why you want to move like a
"space invader". This, middle chapter, in the Temple family of kata looks at multi-layered striking and how to really level the playing field against bigger and/or stronger attackers.
Bo dori will never be the same again.
The Jitte bunkai video is available as a download at $24.95 here: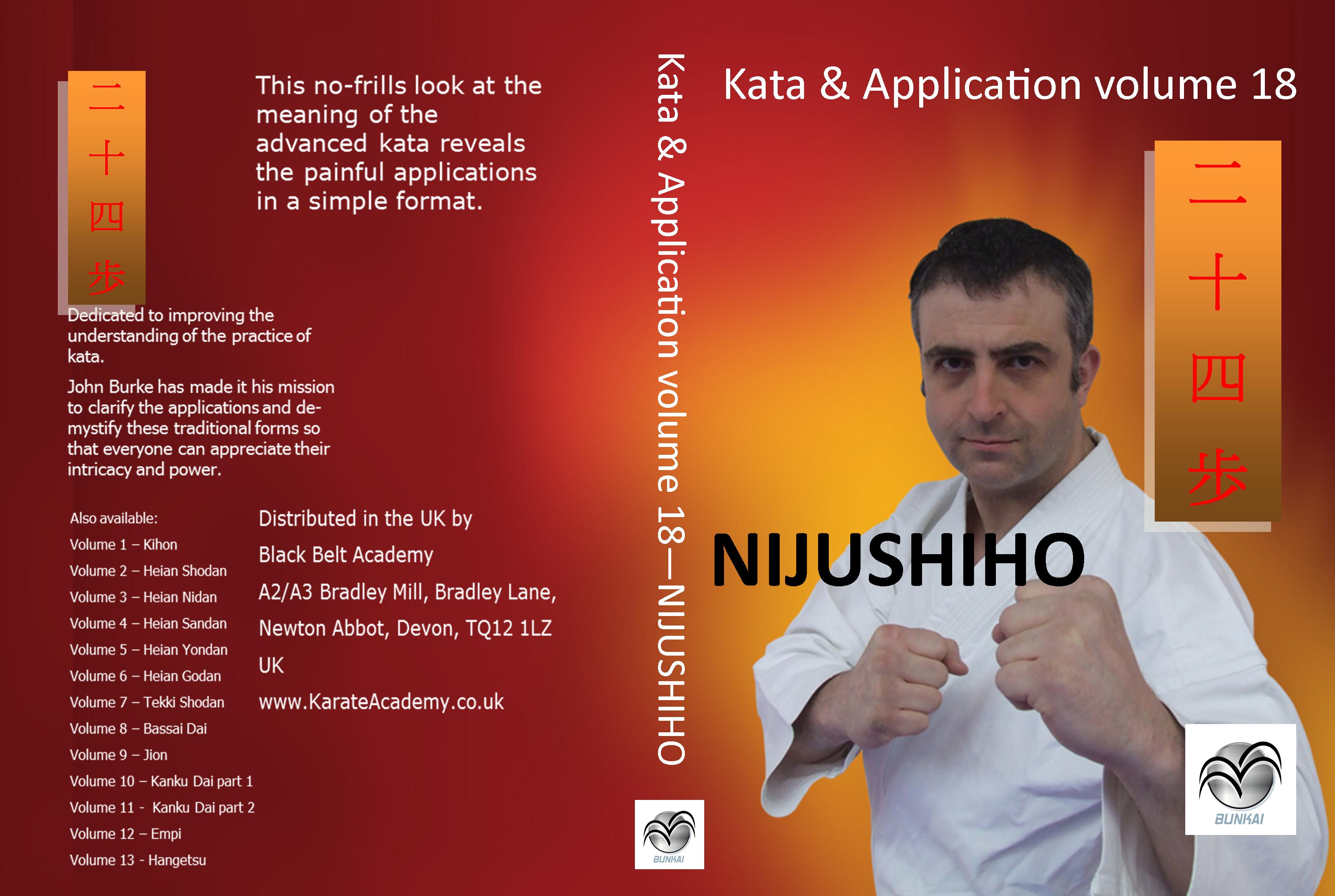 Volume 18 -
Nijushiho
.
Niseishi
. "24". The art of moving, throwing, grinding, and tearing at the opponent as they barrel into you. This DVD is over 1 hour and 20 minutes long, and if you order right now it includes bonus footage of the comparison seminar parts that John Burke sensei taught back in 2004. Learn the omote and ura applications against all sorts of different attacks!
The Nijushiho bunkai/application video (without the seminar bonus) is available as a download at $24.95 here:
Volume 19 -
Gankaku
.
Chinto
. Crane on a Rock, shown with throws, neck-wrenches, and what to do with a
grappler! This kata is normally reserved for 3rd Dan black belts. If you want to see what "crane stance" can really be used for then this is just for you.
The Gankaku bunkai DVD is also available to download at $24.95 here: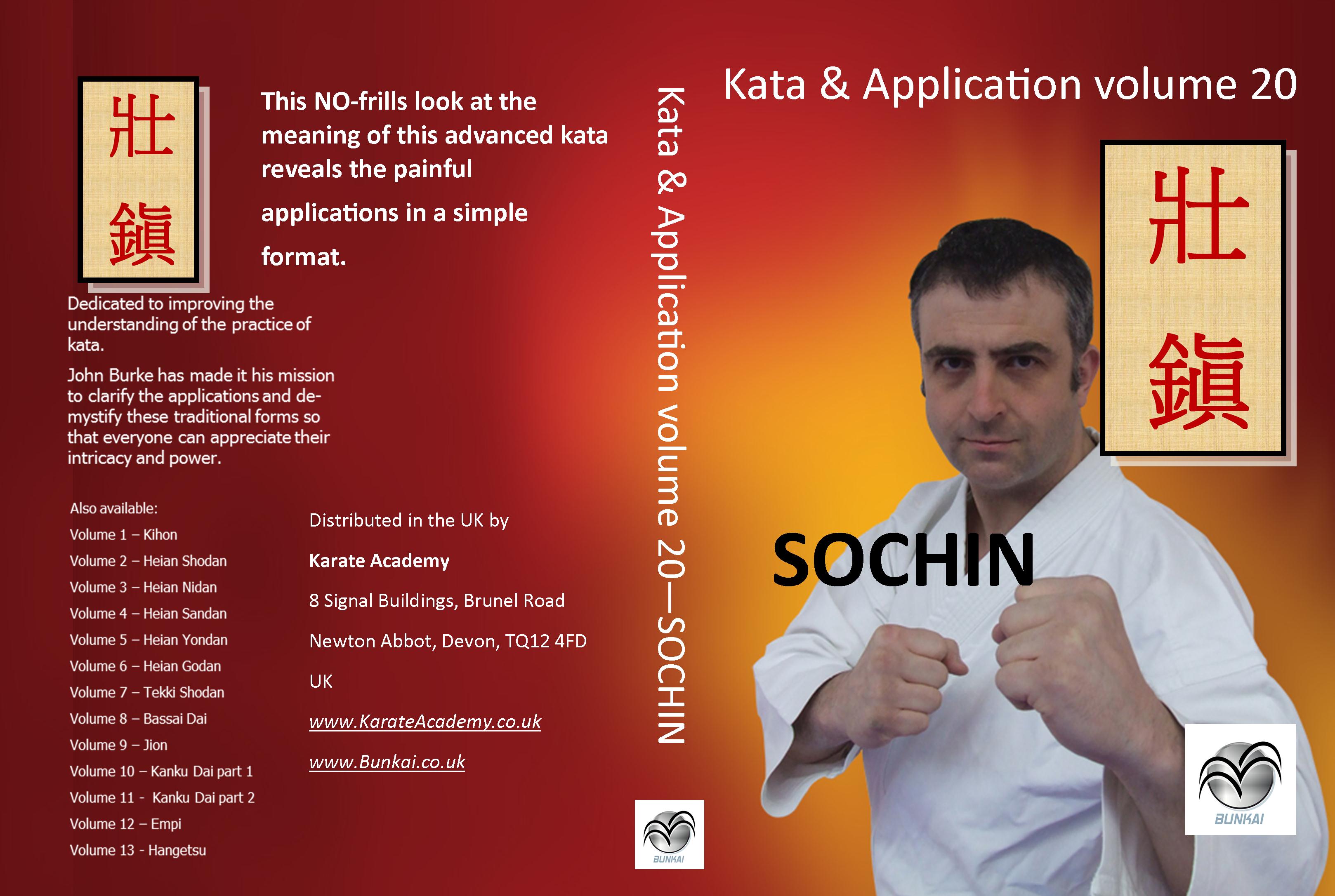 Volume 20 - Sochin - NEW for December 2012. This DVD shows how the moves from the "strong/calm" kata can be used for realistic application. Throat gouging and neck manipulation sit side by side with strikes to vulnerable places and barrelling attacks that do not rely on size and strength, but give the illusion of it. Normally taught to 3rd degree Black Belts.
Released March 2013. This new DVD features the crane kata "Cloud Hands", demonstrating why ippon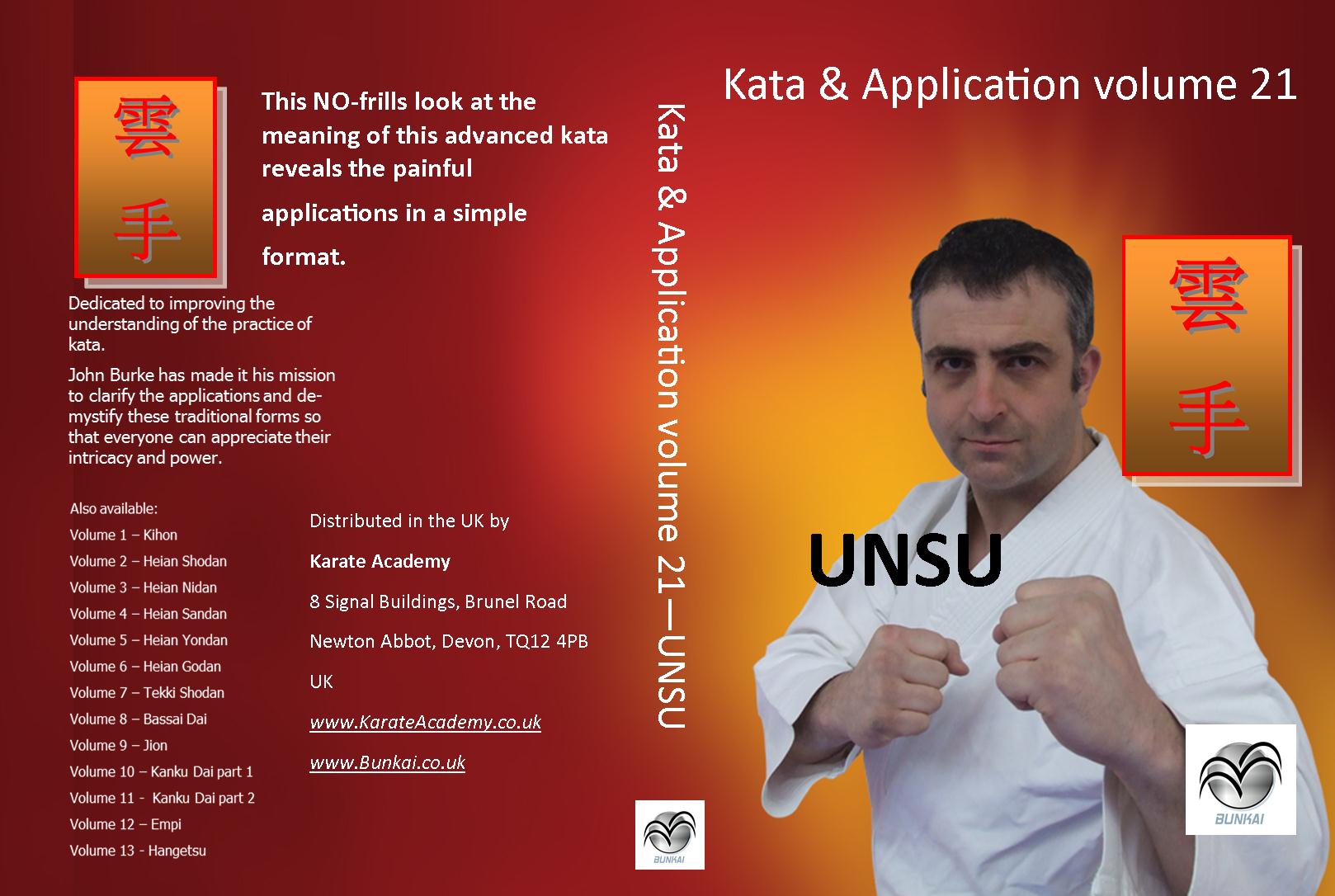 nukite has other destinations than the opponent's eyes, and how the gedan punches are used other than punching the groin. The footage is about 2 hours long, and shows how the kata can be used in a practical sense.
Available with no postage charges here:
The Unsu video is also available as a download for $24.95 here:
Volume 22 - Gojushiho Sho
Volume 23 - Gojushiho Dai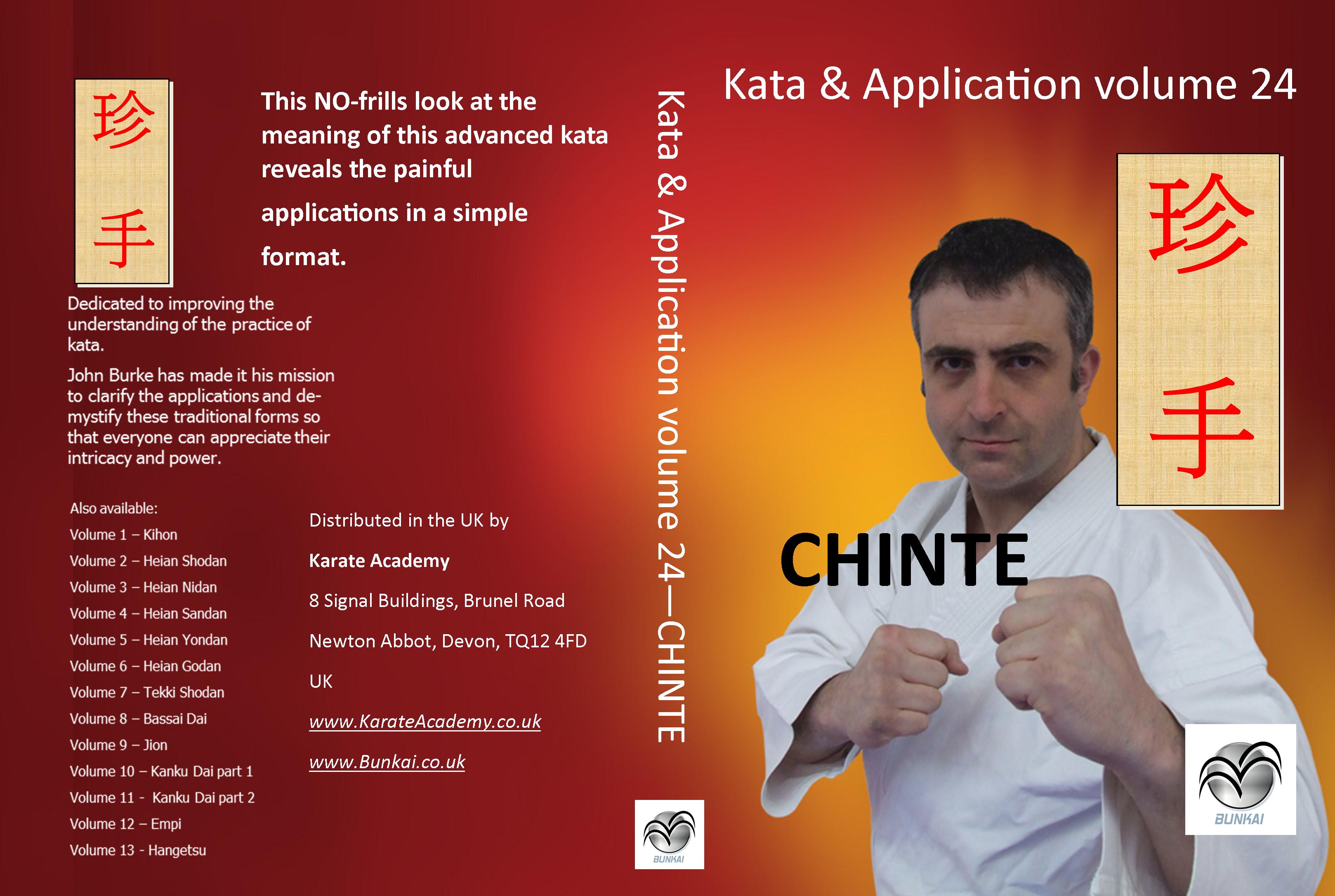 Volume 24 -
Chinte
- NEW for June 2012. This new DVD features the applications to the moves in the
kata Chinte. That includes the two-fingered moves and the backwards bunny-hops. All of them used in a practical manner that causes great pain to the attacker. The DVD is over an hour long.
The download is now available here at $29.95
Volume 25 - Meikyo
Volume 26 - Tekki Sandan
Volume 27 -
Ji'in
. Temple Shadow. Neck wrenching, limb twisting applications for the high level member of the JI family. This further take on the applications previously witnessed in Jion and Jitte adds further depth to what is possible with kata bunkai. The DVD is over an hour long.
The Ji'in bunkai video is also available as a download at $24.95:
Volume 28 - Wankan




Then we have the
Kata Comparison Seminar Series
Where John Burke sensei teams up with other experienced practitioners to compare the performance of kata, and more importantly how the different moves can be used to accomplish the same ends. These DVDs prove that "style" or "lineage" are not the issue, but rather "how you use" what you are taught that really matters. Each disc is about an hour long and was filmed during the seminar in question. They are still only £19.95 each:
Nijushiho & Niseishi
with Martyn Harris sensei teaching the Okinawan Kempo kata sections. 24.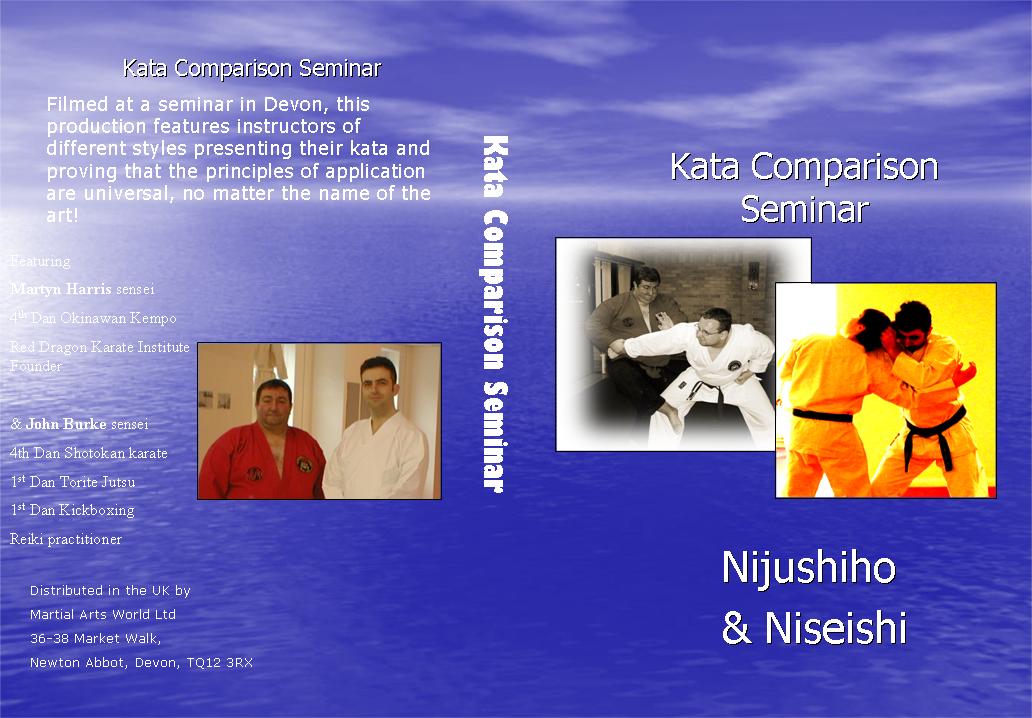 Directions? Opponents? Techniques? Steps? Advanced kata revealed to be more than blocking straight punches (you know, the kind that no-one really throws?) and catching kicks. See how the two-handed block causes knock-outs.
The Nijushiho & Niseishi video footage is available to download at $24.95 here:

Tekki Shodan & Naihanchi with Martyn Harris sensei teaching the Okinawan Kempo kata sections. So important is Naihanchi that Motobu sensei said it was all that you would ever need. This un-pretty kata and it's Shotokan twin are shown to be the effective fighting methods that they were always supposed to be.
The Tekki Shodan & Naihanchi kata comparison seminar video is available for download at $24.95 here:

Hangetsu & Seisan with Damien Birch sensei teaching the Goju Ryu kata sections. Seisan is an enigma. In some places it's a 4th dan kata, in others it's for green belts. At one and the same time it is both simple and advanced, and Hangetsu is a variation of it.
The Hangetsu & Seisan kata comparison seminar video is available for download at $24.95 here:


The Bunkai Strategies Newsletter 2012 comprised of a series of video clips totalling over 90 minutes of tuition. This resource is available now as a download for the bargain price of $10! You can have bunkai principles and techniques available on your pad or pc whenever you need them...